Paraguayan notes in Ñanduti style

K. Sapozhnikov

Pages:

1

[2] [3] [4] [5] »»
1998.In case of any reproductions, reference to the site
www.Tiwy.com
is a must
It so happened that I flew to Asuncion right after the "Niño phenomenon". Out of the window of "Fokker" plane of the Paraguayan airways company "TAM", green landscapes, reddish-orange network of roads and deep blue river veins of Paraguay seemed extraordinarily bright and clear, as if carefully painted by a brush of the hyper-realistic artist.

But that deep beauty was deceptive. A few days ago "Niño" broke through the Chilean Cordillera, showered the Argentine pampa with rains, and having lost none of its aggressiveness, reached Paraguay. It was Asuncion, in the history of which there had never been so devastating a natural disaster, that got it very hard. One of the capital newspapers called that celestial hooliganism of "Niño" a "Carpet bombing".

It took more than an hour for the shuttle airport bus to maneuver along the streets of Asuncion, bypassing fallen trees, twisted wires, overthrown to the pavement roofs and advertising boards. To all appearances dirty-yellow streams threw aside cars and turned them as if they were matchboxes. Broadcasting towers could not withstand the wind and fell down, electric supply was broken down, expensive pre-election propaganda posters got sodden and turned into a shapeless cellulose. Weather forecast service did not expect such mean trick from "Niño" and did not warn the capital residents of possible troubles and was publicly scolded by the city authorities (by strange coincidence at the same day and the same hour the Mayor of Moscow Yuriy Luzhkov lashed Moscow meteorologists for heedlessness in missing the "snow crisis"). For the whole week they spoke about "Niño" more, than about all candidates for the presidency all together. The "phenomenon", having honestly deserved this rating, shifted to Chaco, where it also made everybody respect it.

"Gran Hotel Renacimiento", which accommodated the author of these lines, is situated near the Square of the Heroes (Plaza de los Heroes), and one has a good view of a snow-white cupola of National Pantheon (Panteon Nacional) containing the remains of Presidents Jose Gaspar Rodriguez de Francia, Carlos Antonio Lopez, his son Francisco Solano Lopez, marshal Jose Felix Estigarribia, as well as many others, who perished in wars which nearly brought Paraguay on the verge of downfall. The war against Argentine, Brazil and Uruguay in 1864-1870, in which belligerent and fearless Paraguayans-guarani almost achieved victory, was especially bloody. As John Gunther in his book "Drama of the Latine America" wrote "that struggle had almost destroyed the nation. The Paraguayans still speak about the disaster of 1870 as if happened yesterday and, for all of them, it is an inner and heavy burden". After the war against tripple coalition there remained not more than 30 thousand male population in the country, so the word "genocide" is not an abstract concept for the Paraguayans.

And there also was Chaco "oil" war with Bolivia in mid-30ies of the XX century, in which Paraguay has gained victory, but at what a cost!

Advertising posters, inviting to visit the country, contain obligatory words "Paraguay – is the heart of South America". You can't but admire the fact, that after such difficult historic trials, this heart has not stopped, but is beating with more strength, accumulating the energy for a leap into the next century, so that not to leg behind, not to find itself in the rear-guard of integration processes on the continent.

Asuncion is moving you by harmonic combination of the past and modern. The iron ball of progress, which so far with caution and selectively brings down patriarchal mansions, overgrown by wild grapes. High-rise buildings are intruding into the city landscape, but carefully, slowly as if preparing the beachhead for the decisive attack. Street life is calm and measured, eyes of the pedestrians do not reveal any feverish fear of the residents of Buenos Aires or Santiago to be late somewhere, to miss something, to let somebody shoot forward.

Neo-liberals – advocates of social Darwinism – will have to pant over the Paraguayans, beating their postulates into them: competition is the driving force of progress, the end justifies the means, and personal success is above all. The Asuncion resident does not like fuss, he is not in a hurry, does not jostle one another and therefore he is nice. His philosophy is contemplative and deeply humanistic: there is enough space under these skies for everyone, and therefore, señor bustler, do not be close on my heels. I'll make no secret, this attitude to life of an average Paraguayan is appealing to me, and more than once I had a desire to sit down next to such a street contemplator and take a round vessel with strongly made Paraguay tea "Pajarito".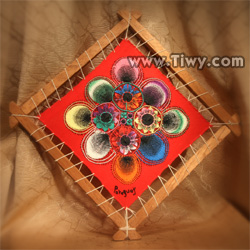 Here are the places that a tourist must see: the House of Independence (Casa de la Independencia), Pantheon of the Heroes (panteon Nacional de los Heroes), Governmental Palace (Palacio de Gobierno), railway station built in 1856, Pettirossi market, where they sell odds and ends – from bananas to kitchen machines, and Recova trade fair, where you can select souvenirs to your taste: leather goods, ornamental plates with village scenes, primitive wooden cut articles or Ñanduti – napkins and table cloth made of coloured spider lines. Unique patterns that arrange chaos into harmony, are borne out of this interweaving of stitches and knots. If you believe in talismans, elegant chicken, made of burned clay and painted in black or white colour, are the best for "luck".

Snow-white governmental, or to be more exact, presidential palace and dark blue building of the Parliament are situated on the bank of the Paraguay river. Palaces are neighbouring the slums inhabited by hundreds of families. Nobody could ever intelligibly explain to me the reasons for such striking symbiosis. It is quite possible that after the fall of dictatorship and splash of democratic permissiveness, this bidonville-anthill was spontaneously erected, destruction of which would discredit new authorities that were speaking of freedom, equality and fraternity. Nowadays there is no money for these people to shift into decent houses. So this strange stirring contrast of palaces and slums remains. Is it stirring, because of planted into subconsciousness radically incompatible "Peace to huts, war to palaces" from old history text-books?



---